"Show me what democracy looks like." "This is what democracy looks like."
The sound echoed for blocks in our nation's capital, and the message reverberated from sea to shining sea.
"This is what democracy looks like."
On the weekend of April 16-19th, protesters from all over the country gathered for the Democracy Awakening, a weekend long action with teach-ins, concerts, grassroots lobbying, and a massive rally. It was an event of historic proportions—the combined arrests from civil disobediences organized by the Democracy Spring and Democracy Awakening set a new record at the Capitol.
Thousands of supporters and over 300 organizations joined by bus, by train, and by plane, to call on Congress to end the big money dominance of our elections and to protect the right to vote. Hundreds marched the week before from Philadelphia to D.C.—all to restore the core principle of our democracy, "one person, one vote."
Free Speech For People staff members and supporters joined the movement, starting with a day long teach-in on Saturday at the All Souls Church in D.C.
"In 2013, 49 states enacted provisions making it harder for people to vote." –@FSFP Board Member Greg Moore on #VRA pic.twitter.com/KNDcbDTDzF

— FreeSpeechForPeople (@FSFP) April 16, 2016
Our Board Member Greg Moore and President John Bonifaz spoke on separate panels about voting rights and solutions to reclaim our democracy.
John fired up the crowd, reminding everyone in the audience what is at stake and why we must fight for a 28th Amendment to overturn Citizens United.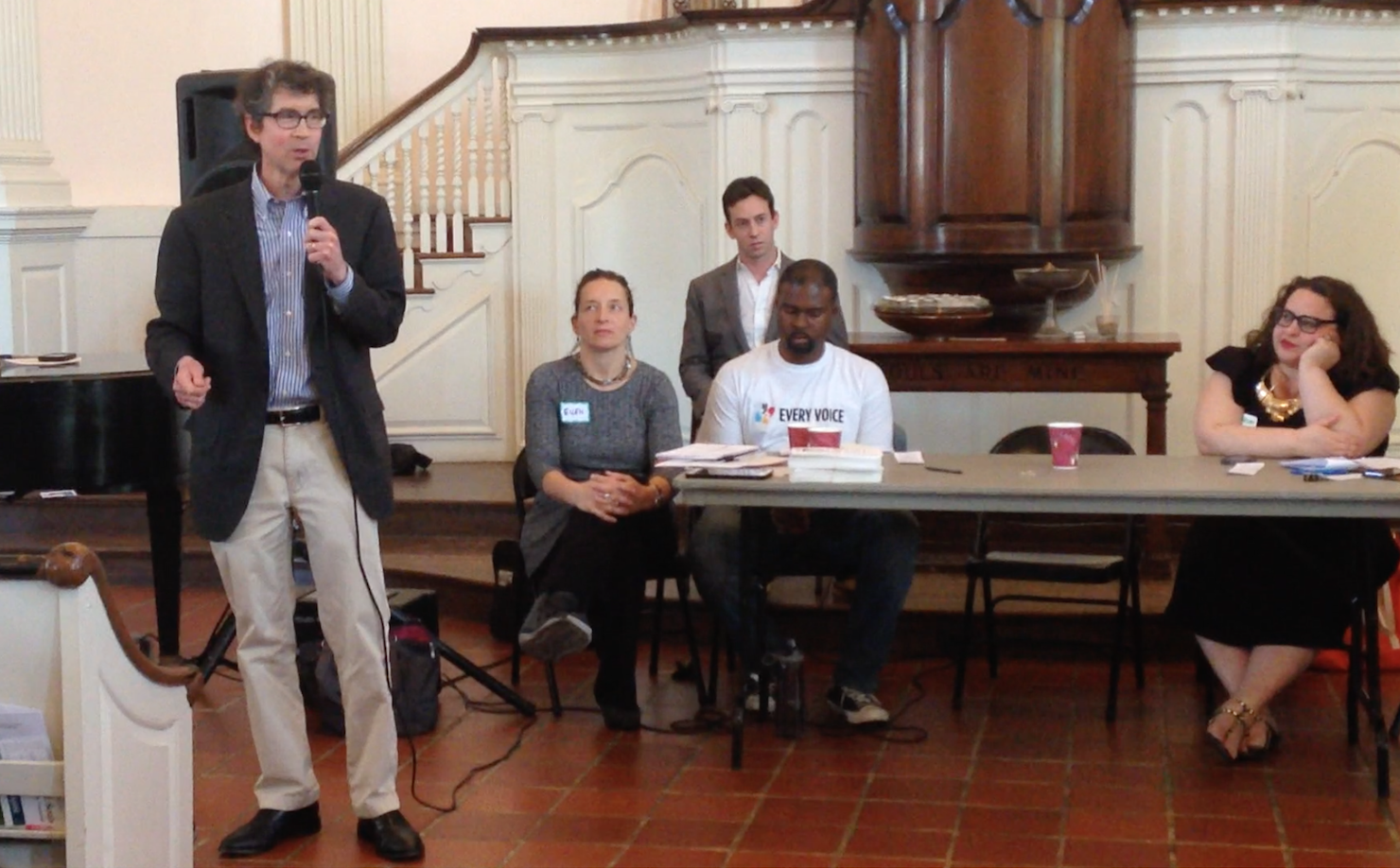 Packed house at teach-in on solutions to #fightbigmoney. @JohnBonifaz spoke on need for innovative litigation. pic.twitter.com/LSbmDaeK4X

— FreeSpeechForPeople (@FSFP) April 16, 2016
The crowd listens intently to remarks from John Bonifaz. 
On Sunday morning, thousands gathered again in front of the Capitol for a rally and march. An impressive list of speakers helped kick off the day. Some of the speakers included:
Dolores Huerta, co-founder, the United Farm Workers union with Cesar Chavez
Reverend Dr. William Barber II, Pastor & Moral Monday Architect
Cornell William Brooks, President & CEO, NAACP
Aaron Mair, President, Sierra Club
Ellen L. Weintraub, F.E.C. Commissioner
Kathleen Turner, Director and Award-winning Actress
Robert Weissman, President, Public Citizen
That's what's up! Americans of all ages are calling for an end to big $ silencing our vote. #DemocracyAwakens @OU_DC pic.twitter.com/KwmkYzkBSq

— FreeSpeechForPeople (@FSFP) April 17, 2016
Sunday's event was filled with sunshine, music,  Ben & Jerry's ice cream, and a hopeful spirit.
Good vibes all around. Sunshine. Ice cream. And songs calling for freedom & democracy w/ Sweet Honey in the Rock. pic.twitter.com/BF1d0BfHp2

— FreeSpeechForPeople (@FSFP) April 17, 2016
Free Speech For People marched with our partners all the way to the Supreme Court and Union Station. Sunday's event was a family affair for our President John Bonifaz, who marched with his wife Lissa and daughter, Marisol.
Proud to have marched with my daughter Marisol at #DemocracyAwakening to demand a democracy for all! @FSFP pic.twitter.com/eiQwIwSTxR

— John Bonifaz (@JohnBonifaz) April 17, 2016
"Show me what democracy looks like" "THIS is what democracy looks like" #DemocracyAwakens pic.twitter.com/2JXeDZnbwP

— FreeSpeechForPeople (@FSFP) April 17, 2016
On Monday, a second and final march ended in the arrests of more than 900 protesters. The act of civil disobedience was the culmination of a week of actions and months of planning.  Those arrested included leaders from the  civil rights, labor and environmental movements.
The Nation described the arrests as "the most important protest of the 2016 election,":
"This is not a moment. It's a movement," said Cornell Brooks on the steps of the Capitol. Leaders of major progressive organizations were joined by teenagers who'd skipped school to risk arrest, ice cream mogul Jerry Greenfield, faith leaders, and striking Verizon employees. Past acts of civil disobedience echoed through the crowd—"We are the ninety-nine percent!" the protesters thundered as the police moved in, evoking Occupy Wall Street; as the arrests began they sang "We Shall Overcome" and "Can't Turn Me' Round," freedom songs from the civil rights era.
Although the Democracy Awakening weekend ended, a pro-democracy fire has been re-ignited that will not soon fade away. We brought national focus  to the corrosive effects of big money in our elections. If even for a few moments, we captured the attention of the mainstream media and we started a new dialogue. We created a movement where every one is welcome and every voice has an opportunity to be heard.
On the weekend of the Democracy Awakening,  we came together to show America, this is what democracy looks like.