Last weekend, Free Speech For People traveled to Phoenix, Arizona for the 8th annual Netroots Nation conference, featuring a keynote from Massachusetts Senator Elizabeth Warren. Democrat Presidential candidates, former Maryland Governor Martin O'Malley and Senator Bernie Sanders, were also in attendance for a townhall style panel hosted by Antonio Vargas.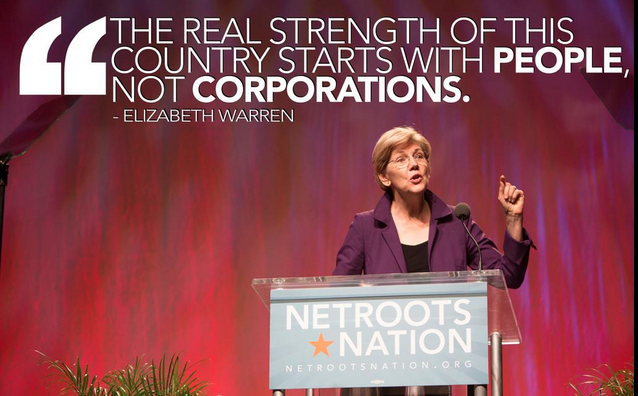 During her speech, Senator Warren addressed the need for reform on Wall Street and in our campaign finance system, saying "We need a government that doesn't just work for the wealthy, we need one that works for the people." Last year in Detroit she fired up the crowd, and this year was no different.
Watch the clip below for the full keynote.
Over the course of three days, various panels discussed topics ranging from the student debt crisis to reforming immigration policy, to building successful online movements and documentary movie screenings. One panel, featuring Free Speech For People Board Member Greg Moore of Democracy Initiative and Free Speech For People Legal Advocacy Committee member Jamie Raskin, addressed the need to amend our current voting rights legislation so that all Americans have a voice.
During the panel, Raskin and Moore explained how the  voices of the American people are being drowned out by big money, and the right to vote is under attack—be it through felony disenfranchisement or the flood of money in our elections.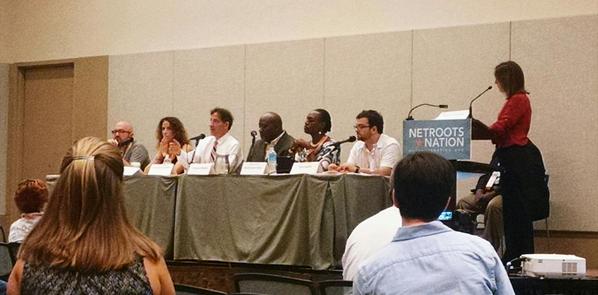 (Jamie Raskin speaks at Netroots Nation 15 on voting rights) 
Throughout the entire conference, a theme resonated: It's time to level the playing field in our democracy. We agree.
Attendees and supporters from Netroots are part of a unique network driving real and lasting change. We were pleased to be a part of this convening and we look forward to integrating the ideas and conversations from Netroots Nation 15 into our work to restore democracy for all.