Leo Maley, Massachusetts Nurses Assoc. Associate Director, Interviews John Bonifaz, Director of Free Speech for People:
***
The Supreme Court vs. American democracy
From the Massachusetts Nurse Newsletter
March 2010 Edition
By Leo Maley
Associate Director, Division of Legislation and Governmental Affairs
By a slim 5-4 majority and in a stunning show of judicial activism, the U.S. Supreme Court ruled this January that corporations are free to spend unlimited amounts of money to help elect politicians of their choosing.
Since 1907, when Republican President Theodore Roosevelt signed a law banning corporate donations to federal political campaigns, federal law has placed limits on corporate political activity. Similarly, since 1947 unions have been banned from using general treasury funds on behalf of federal candidates. Only voluntary contributions to union PACs may be spent to directly help elect candidates to federal offices.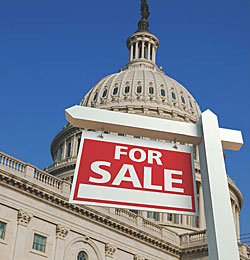 National Nurses United, of which the MNA is a founding member, has come out strongly against the court's decision (Citizens United vs. FEC). As Rose Ann DeMoro, executive director of the NNU noted, this is a "disastrous ruling for American workers and American democracy … the healthcare debate of the last year has provided a sobering reminder of the already pervasive influence of giant pharmaceutical and insurance corporations. The last thing our democracy and political system needs is even more spending and political sway by the wealthiest interests in the country."