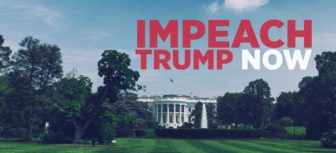 Yesterday , Free Speech For People, in partnership with RootsAction, launched a campaign to impeach President Donald J. Trump for direct and serious violations of the United States Constitution, emerging out of his refusal to divest fully from his business interests, as is required by the Constitution's Foreign Emoluments Clause and Domestic Emoluments Clause.
The nation is now witnessing a massive corruption of the presidency, far worse than Watergate. Indeed, Nixon White House Counsel John Dean has told reporters: "I don't think Richard Nixon even comes close to the level of corruption we already know about Trump."1 Given the opportunity of ten full weeks between the election and the inauguration to divest his business interests, Mr. Trump chose instead to announce, just nine days before inauguration, a wholly inadequate plan to step away from operations, but not ownership or income streams, of the Trump Organization.2Instead, he has chosen to profit from the presidency at public expense, and in violation of our Constitution. The violations, the corruption, and the threat to our republic are here now.
Mr. Trump has been repeatedly warned since the November 2016 election that he needed to fully divest from his business interests in order to comply with the US Constitution. Harvard Law Professor Laurence Tribe, one of the nation's leading constitutional law scholars, said that if he did not fully divest from his business interests prior to his inauguration, "he would be a walking, talking violation" of the Constitution. "When he takes the oath to uphold the Constitution," Professor Tribe said, "he would be lying."3  Norman Eisen, former chief ethics counsel for President Barack Obama, Richard Painter, former chief ethics counsel for President George W. Bush, and Walter Shaub, the director of the non-partisan Office of Government Ethics, among other experts, have also said that, unless he fully divested, Mr. Trump would be in violation of the Constitution the moment he took the oath of office.4

Sign here to call for an impeachment investigation of President Donald Trump.
We are calling today on Members of Congress to introduce our resolution to initiate now an impeachment investigation of President Trump's violations of the Constitution, as well as of the federal STOCK Act. You can access that resolution and learn more about the legal grounds for this campaign via our campaign website: www.impeachdonaldtrumpnow.org.
When we launched Free Speech For People seven years ago this month, we sought to challenge big money in politics and unchecked corporate power with innovative legal advocacy in the courts for a new jurisprudence and with a bold campaign for a 28th Amendment to reclaim our democracy. We remain vigilant in carrying out that work, which includes the initiation of important test cases challenging super PACs, foreign corporate money in our politics, and big money in judicial elections.
However, in the face of this new and unprecedented level of corruption by the President of the United States, we must also rise to address this extraordinary moment in our history. This non-partisan impeachment campaign is fully consistent with and necessary for carrying out our mandate. The President must be held accountable for these impeachable offenses and we, as a people, must address this new corruption threat to our Constitution and our democracy.
Join this campaign today to defend our Constitution and our democracy!