Across the Aisle:
The Growing Trans-partisan Opposition to Citizens United
We've just released a new report highlighting more than 100 Republican officials who support a constitutional amendment to overturn the Supreme Court's Citizens United decision, along with dozens more who have publicly criticized it. Read the full report here and help us by spreading the word.
Feel free to copy and share the graphics below on facebook, and send a tweet out to your followers. For other ways to get involved, click here and scroll down to read the press release about the report.
It is crucial to create awareness that overturning Citizens United is an issue all parties can stand behind.
Share this tweet:
NEW report #AcrossTheAisle by @FSFP shows 100+ Republicans support overturning Citizens United. Find out who: http://ow.ly/lODNu
Share this graphic: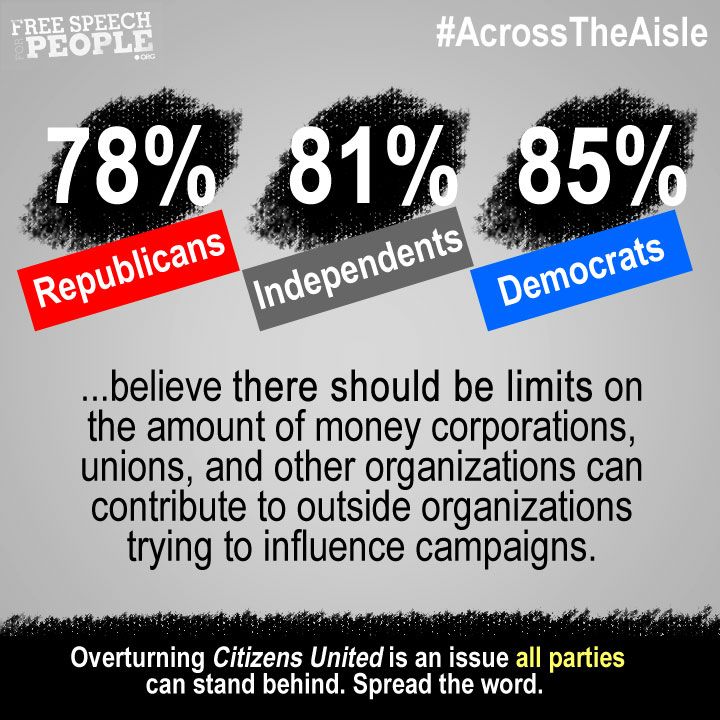 Press Release:
FOR IMMEDIATE RELEASE
More than 100 Republican Officials Helping Overturn Citizens United
FSFP Report Shows Substantial Trans-Partisan Support for
Amending US Constitution to Reverse Supreme Court Decision
Seattle, WA – With public frustration over a political system dominated by big money and corporations at an all-time high, a new report highlights Republican voices calling for genuine political reform. Released by Free Speech For People, a group advocating for a constitutional amendment to overturn Citizens United, this is the first compilation of Republican quotes and actions supporting this reform, demonstrating the growing trans-partisan movement to undo the damage Citizens United has done to our democracy.
The report is available at: http://j.mp/AcrossTheAisle
Peter Schurman, campaign director of Free Speech For People, said, "The voices demanding an end to the Citizens Unitedera of money over people are getting louder and more diverse, and they now include a significant number of Republican leaders who recognize democracy must mean government of, for, and by the people – all the people, not just the wealthy few, and not the corporations."
Free Speech For People is pleased to present this compilation of more than 100 such Republican leaders, including both current and former, both federal and state, and both elected and appointed public officials.
More specifically, this compilation is comprised of:
111 Republicans who have called for an amendment to overturn Citizens United;


9 Republicans who have criticized Citizens United for its claim that corporations have constitutional rights; and:

10 more Republicans who have criticized Citizens United in more general terms.


The total to date is 130 Republican officials, prominent at the federal or state level, who oppose Citizens United.
From the report:
Sen. John McCain (R-AZ): "That's why we have different laws that govern corporations than govern individual citizens. And so to say that corporations are people, again, flies in the face of all the traditional Supreme Court decisions that we have made — that have been made in the past."

John Huntsman, former Governor of Utah and U.S. Ambassador to China: "The party has become a holding company for super PACs," he said, describing the Citizen's United [sic] Supreme Court case, which opened the door to unlimited, secret money in campaigns as disastrous.

Former Sen. Olympia Snowe (R-ME): Sen. Snowe says the unleashing of their attack ads has been a disservice to the candidates and the voters because they've dampened discussion of real issues. That's why Snowe says she'd endorse a future effort to repeal Citizens United. "It's ridiculing our process, it's ridiculing, frankly, the common sense, practicality and intelligence of the American people," Snowe says. "They expect better, should get better, deserve better."

U.S. Rep. Walter Jones, (NC-3): Co-sponsored H.J. Res. 21 (in the 113th Congress) and H.J. Res. 88 (in the 112th Congress), identical bills to amend the U.S. Constitution to make it clear that corporations do not have constitutional rights, as if they were people.
It is clear from this report and actions of bipartisan groups across the country that this issue goes far beyond party lines.
"This is not a Republican issue or a Democratic issue, this is an issue for all Americans. The huge influx of money into politics does nothing for average Americans who believe in one person, one vote" said Former Montana Lieutenant Governor John Bohlinger. "The Supreme Court's actions in Citizens United and related cases have left us no choice but to pursue a congressional amendment. I'm pleased to see so many of my fellow Republicans voice their agreement in this report."
###
About Free Speech For People: Free Speech For People works to challenge the misuse of corporate power and restore republican democracy to the people. For more information, visit freespeechforpeople.org.
Contact:
Ryan O'Donnell
Communications Consultant
Free Speech For People
(413) 335 – 9824