Free Speech For People is pleased to announce our spring 2018 legal interns. We welcome these law students to our Legal Advocacy Program and we look forward to working with them.

Kourosh Azin is a first year student at Boston College Law School. He received his Bachelor's degree in Economics from the University of California, Santa Barbara. He has worked in various fields of sales including B2B, B2C, In-House Sales, and Architectural Sales. In addition to his professional pursuits, he regularly volunteered with the International Society for Children with Cancer.

Joanna Kamhi is a first year law student at Penn Law. After graduating from the University of Pennsylvania in 2015, Joanna moved to Vientiane, Laos, to teach English as a Princeton in Asia Fellow. Following her year in Laos, she spent a year in Nazareth, Israel, where she worked in the English department at a local elementary school and interned with the Arab Association for Human Rights. Joanna hopes to pursue a career in regulatory law, and is especially interested in environmental and consumer protection.

Danielle Lazarus is a second year law student at Penn Law. Prior to law school, she attended Duke University, where she majored in Public Policy and History. After graduation, Danielle will join the New York office of Paul, Weiss. When she is not studying, Danielle enjoys rooting for all Philadelphia sports teams, as well as the Duke Blue Devils.

Michael Mischke is a second year law student at Harvard Law School. He is interested in constitutional law, especially election law, and is active in the Harvard Journal on Legislation. After graduation, he will be working at Arnold & Porter in Washington, D.C. Michael is originally from Minnesota and is an avid fan of Minnesota sports teams.

Annika Olson is a first year law student at Boston College Law School.  She loves living on the east coast after having spent most of her life in the Midwest (with a couple of years in Brazil). Annika is so excited to be a part of Free Speech for People—even if it is just for one week—and can't wait to get to know the people and policies that form and shape Boston.

Roya Tabibi is a first year law student at Boston College Law School. A native of Houston, Texas, she received her bachelor's degree in English literature from Baylor University. She currently serves as a 1L Representative for the Middle Eastern Law Student Society and has participated in a variety of activities in her first year of law school, including the Negotiation and Client-Counseling Competitions. Roya is looking forward to volunteering at Free Speech for People and advocating for political equality.

 Xiran Zhao is an LLM student at Boston College. She received her Bachelor of Law from the Macau University of Science and Technology in 2017. From 2014 to 2016, she had legal internships in China, at the Zhejiang Yongwei Law Firm, Ningbo Jiangdong District People's Court, and City People's Procuratorate of the People's Republic of China.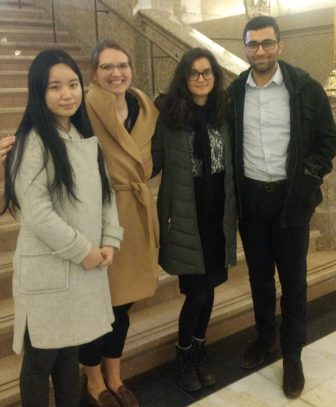 FSFP spring 2018 interns Xiran Zhao, Annika Olson, Roya Tabibi, and Kourosh Azin at the John Adams Courthouse in Boston on March 6, 2018 for oral argument in 126 Self-Storage Inc. v. Sullivan