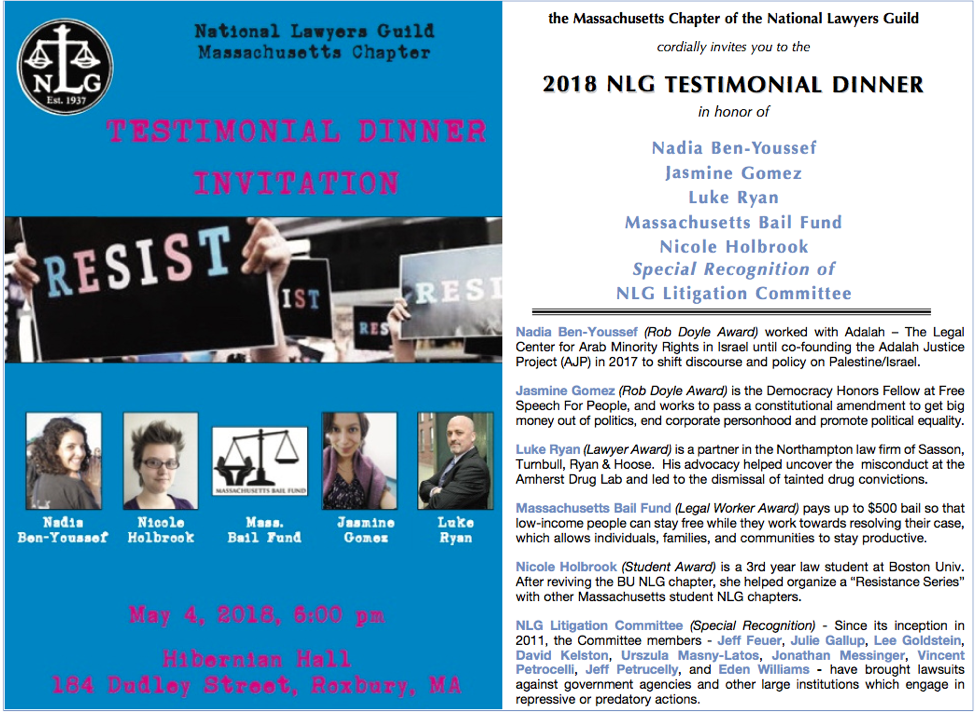 Free Speech For People is thrilled to announce that Jasmine Gomez, Democracy Honors Fellow, is a 2018 recipient of the Rob Doyle Award from the National Lawyers Guild – Massachusetts Chapter. As the Democracy Honors Fellow with Free Speech For People, Ms. Gomez works to challenge big money in politics, build and expand the movement for a 28th amendment to the Constitution to overturn Citizens United, and foster political equality.
In addition to her legal work, Ms. Gomez has led new and critical efforts to connect money in politics to the everyday experiences of underrepresented and underserved peoples. This includes researching the impacts that money in politics has on immigration policy, and creating and organizing events in Boston, Washington, D.C., and Minneapolis concerning LGBTQ+ rights, democracy, and money in politics. Following the events, Ms. Gomez developed an online resource page, for LGBTQ+ individuals to have access to resources to understand how money in politics and corporate rights affects their everyday lives.
Ms. Gomez is dedicated to making the dialogue on money in politics intersectional and inclusive to a diverse range of experiences. To ensure others have tools to bring in intersectional voices, she worked with Demos to create a framework on how to create events that center individuals from marginalized communities. Ms. Gomez is also working with several other organizations to host a national conference call on how to make an intersectional pro-democracy movement at the end of March 2018. In addition to Ms. Gomez's work with Free Speech For People, she is a community activist that fights for racial equality, queer and trans liberation and the de-colonization of Puerto Rico.
Ms. Gomez will be honored with the Rob Doyle Award at the 2018 National Lawyers Guild Testimonial Dinner on May 4, 2018, at 6:00pm. For more information and to buy tickets for the event, please click here.