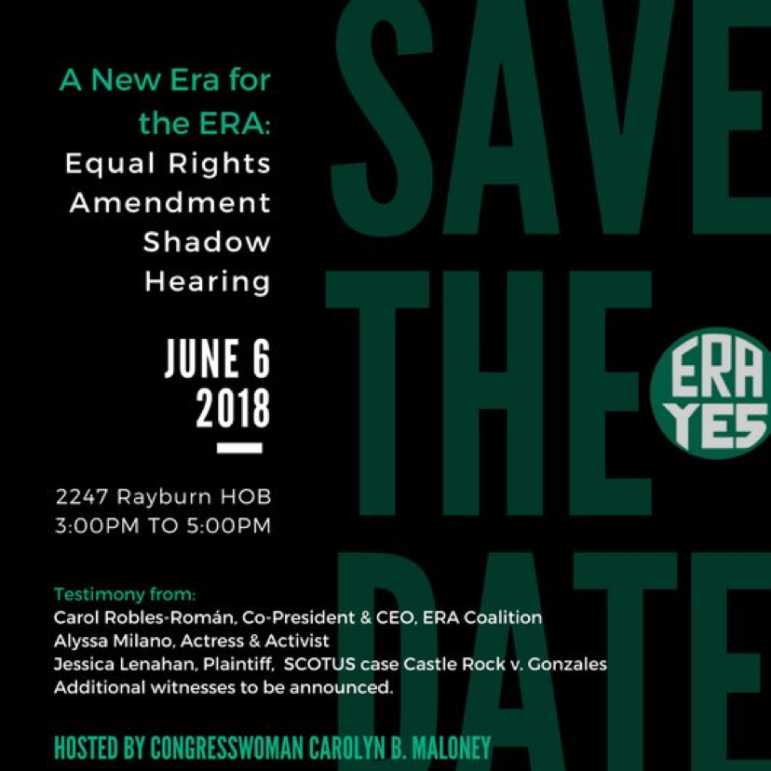 Following decades of tireless advocacy and determination, the Equal Rights Amendment, stating that civil rights may not be denied on the basis of one's sex, is moving forward. On May 30, Illinois became the 37th state to ratify the amendment. Only one additional state is required for ratification to enact the Equal Rights Amendment.
However, when the ERA was initially introduced in 1972, Congress placed a seven-year restriction on the timeframe for ratifying the amendment – a restriction which is not required by the Constitution. Congresswoman Carolyn Maloney of NY has, for many years now, served as the lead sponsor of a bill that would remove that deadline and allow for the ERA to be enacted once it reaches the threshold of 38 states for ratification.
Congresswoman Maloney will hold an open hearing on Wednesday, June 6, on Capitol Hill, on the bill before Congress to remove the time restriction for the Equal Rights Amendment. Actress and activist, Alyssa Milano, will give the opening testimony at the hearing.
A New Era for the ERA: Equal Rights Amendment Shadow Hearing
Hosted by Congresswoman Carolyn Maloney
Opening Testimony by Alyssa Milano
Wednesday, June 6
3:00 – 5:00pm
Rayburn House Office Building, Room 2247
45 Independence Avenue SW
Washington, DC 20515
Free Speech For People is proud to endorse the Equal Rights Amendment. Since our founding, we have pressed for the Democracy For All Amendmentand the People's Rights Amendment to reclaim our democracy and ensure every person can participate equally in our democracy. The ERA, which advances bedrock equality principles, is tied directly to our work to fulfill the promise of political equality for all.
We hope you will join us at the hearing to call on Congress to take action in support of the Equal Rights Amendment!