On Friday, November 20, Free Speech For People and Loyola Law School of Los Angeles hosted a full-day academic symposium on "Corporations, the Constitution, and Democracy."
With the invaluable assistance of Professor Elizabeth Pollman, the event brought together some of the nation's leading thinkers to examine how the role of big money and corporate claims of constitutional rights impact our democracy and our Constitution. After a morning roundtable session, the symposium featured two star-studded panels and a keynote address by Chief Justice Leo Strine of the Delaware Supreme Court.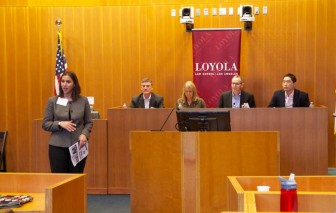 The first discussion, "The Future of Corporate Constitutional Rights Litigation and Theory," featured Professor Margaret Blair (Vanderbilt University Law School), Dean Erwin Chemerinsky (UC Irvine School of Law), Professor Sarah Haan (University of Idaho College of Law), Professor James Nelson (University of Houston Law Center), and Professor Adam Winkler
 (UCLA), and was moderated by Professor Anne Tucker (Georgia State University College of Law).
The second discussion, "Democracy, Corporations, and Money in Politics," featured Jeff Clements (Co-Founder and Board Chair, Free Speech For People), Professor Richard Hasen (UC Irvine School of Law), Professor Michael Kang (Emory University School of Law), and Michele Sutter (Co-Founder, Money Out Voters In), and was moderated by Professor Pollman.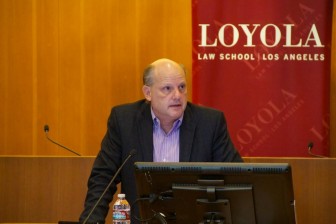 Chief Justice Strine's keynote address, entitled "Corporate Power Ratchet: The Courts' Role in Eroding 'We the People's' Ability to Constrain Our Corporate Creations," traced how the interactions between several different lines of federal cases have combined to erode society's ability to constrain its own corporate creations.
While the panels featured lively debates, important areas of consensus emerged on topics such as the Supreme Court's misunderstanding of the nature of a corporation, the inherently commercial nature of corporate speech, the importance of political equality in the constitutional analysis of limits on money in politics, and the need to develop the foundations of a new jurisprudence now.
Free Speech For People gives a special thank you to the Open Society Foundations for grant support to help make this symposium possible.
Additional photos from the event are available here.
Click the links below to watch videos from the events.