Free Speech For People, By the People, CREDO Action, Courage Campaign, Democracy For America, Mainers for Accountable Leadership, and March for Truth released the following statement after the House Judiciary Committee's vote to formalize its impeachment probe today:
President Donald Trump is a direct and serious threat to our republic.  On an almost daily basis, he attacks our Constitution, our democracy, our friends, families and communities, and the rule of law.  The House majority has the power and responsibility to use the impeachment process to hold Trump accountable for his repeated abuses of power but they are still failing us.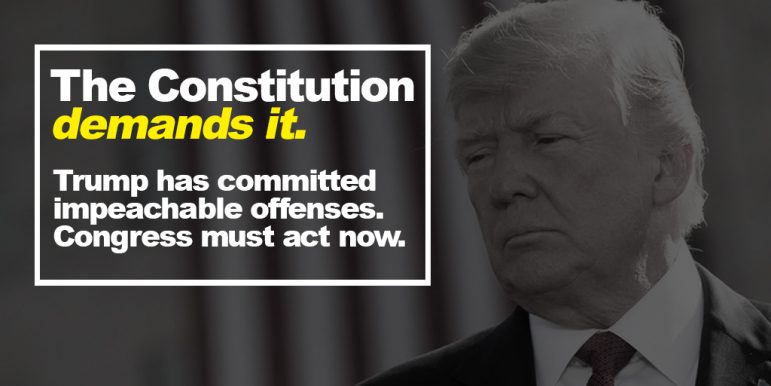 Today's vote comes after months of sustained grassroots pressure but is still only a half-measure. The House Judiciary Committee is still refusing to set a date to move articles of impeachment out of committee or to officially expand the scope of its inquiry beyond the Mueller report, despite overwhelming evidence that the president has committed multiple impeachable offenses.
We will not allow Congress to run out the clock on impeachment.  The Nixon impeachment inquiry took four months from the Watergate Special Prosecutor's March 1974 release of materials to the House Judiciary Committee to the July 1974 Committee vote on articles of impeachment. The Clinton impeachment inquiry took approximately three months from the September 1998 release of the Starr Report to the December 1998 Committee vote on articles of impeachment. Congress has now had the Mueller Report – only one data point in a comprehensive case for Trump's impeachment – for more than four months.
Our democracy, our communities that are under attack, and our planet cannot wait any longer for Congress to lead. If Congress is serious about fulfilling its constitutional obligations, it must carry out the impeachment process on the following timeframe:
The House Judiciary Committee votes on articles of impeachment against President Trump by November 1, 2019; and

The full US House of Representatives votes on articles of impeachment against President Trump by November 15, 2019.
The stakes are too high and the hour is too late for Congress to extend this process any longer than that timeframe.  Our Constitution, our democracy, our communities, and our planet's future are on the line. The House majority must act with the urgency required in the face of this moral and constitutional crisis.