In August, Free Speech For People joined By the People to mobilize people across the country to demand Members of Congress support a full impeachment inquiry. Now, it's time to show them how it's done.
On September 23rd, we are joining By the People in Washington, D.C. to demand impeachment with a "people's hearing" on Capitol Hill: The People vs. Trump.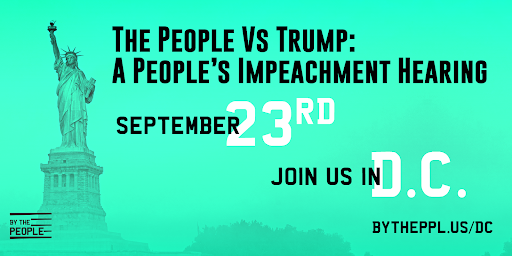 THE PEOPLE VS. TRUMP
Monday, September 23rd at 12:00 ET
Spirit of Justice Park (New Jersey Ave SE and D St SE)
This is a people's impeachment hearing. It's a chance to submit personal testimony about Trump's abuse of power and the public trust and make our voices heard!
Will you join By the People activists in D.C. on Monday, September 23rd? RSVP here and we'll send you everything you need to know.
We know that when the people lead, politicians will follow. Right now, it's up to us to make clear that we will not allow Congress to run out the clock on impeachment.Congress must fulfill its constitutional responsibility and hold this president accountable via the impeachment process.
Finally, those who cannot make it to D.C. can use this form to submit a personal testimony and activists will make sure Congress hears you loud and clear.